Using A.I. for Affiliate Marketing.
Artificial Intelligence and chatGPT, Bard, Alpacca, and other A.I programs have been the latest buzzwords online lately. You would have been living under the proverbial rock if you had not heard of it by now.  
 A.I and chatGPT provide easy ways to write content for websites and put together other articles and information specifically targeted for one area. For example, it may target text-to-speech or even text-to-video. The possibilities are only limited by the old cliche, your imagination.
There are probably a large number of people who have Bings chatGPT installed and use it on a regular basis. But are we using it effectively and how can we maximize the benefits to keep us ahead of the pack?
Find the Correct Tools.
The first question I asked chatGPT was "How to use AI for Affiliate Marketing" It is interesting to note that it auto-corrects any poor input, in my case "Hoow" 
The answer verbatim that I got was this.
---
AI for Affiliate Marketing
This is a way to use artificial intelligence tools to create, optimize, and automate your affiliate campaigns. AI tools can help you with tasks such as:
Generating engaging and original content for your blogs, websites, social media sites, and emails
Tracking, analyzing, and optimizing your traffic sources, conversions, and commissions
Finding the best offers, keywords, and audiences for your niche
Creating smart links that redirect users to specific destinations based on their country or device
Analyzing your network of contacts and generating high-quality referrals
Some examples of AI tools for affiliate marketing are:
     Written by chatGPT.
---
You do need to use the good old brain, that gray matter for some things now and again. And this is the time you need to do it. Chat and the other tools have a tendency to jump straight into the answer, and if you are trying to put together content that sells, this may not be the best method.
A.I Tools that Can Help. (My List) 
The first thing you need to do is find the tools that can help you and then learn how to use them effectively. And we must be aware that the output is only as good as the input. "Train" your A.I to give better answers Quite a lot of my associates are now 'teaching" their A.I. to respond in a certain manner. For example, they might ask their A.I tool to respond in the 3rd person or respond in an aggressive or informational manner.
Once you have chosen the tool you wish to use, decide upon a content creation workflow. Then wash and repeat. 
Here is a list of some tools that I have found helpful.
Audio and Video AI Tools:
————————-
1. VoicePen AI:Convert audio content into blog posts, using AI.
https://voicepen.ai/ 
2. Krisp: AI tool for removing background voices, noises, and echoes from calls.
https://krisp.ai/
3. Beatoven: AI tool for creating custom royalty-free music.
https://www.beatoven.ai/
4. Cleanvoice: AI tool for automatically editing podcast episodes.
https://cleanvoice.ai/
5. Podcastle: AI tool for studio-quality recording from your computer.
https://podcastle.ai/
6. Vidyo: AI tool for making short-form videos from long-form content.
https://vidyo.ai/
7. Maverick: AI tool for generating personalized videos at scale.
https://lnkd.in/eptCVijb
8. Soundraw: AI tool for creating original music.
https://soundraw.io/
9. Otter: AI tool for capturing and sharing insights from meetings.
https://otter.ai/
Design AI Tools:
——————-
1. Flair: AI tool for designing branded content.
https://flair.ai/
2. Illustroke: AI tool for creating vector images from text prompts.
https://illustroke.com/
3. Stockimg: AI tool for generating the perfect stock photo.
https://stockimg.ai/
4. Looka: AI tool for designing your brand.
https://looka.com/
Copy and Content AI Tools:
—————————
1. Copy: AI tool for generating copy that increases conversions.
https://www.copy.ai/
2. CopyMonkey: AI tool for creating Amazon listings in seconds.
http://copymonkey.ai/
3. Ocoya: AI tool for creating and scheduling social media content.
https://www.ocoya.com/
4. Unbounce Smart Copy: AI tool for writing high-performing cold emails at scale.
https://unbounce.com/
5. Puzzle: AI tool for building a knowledge base for your team and customers.
https://www.puzzlelabs.ai/
Image and Content Clean-up AI Tools:
——————————-
1. Cleanup: AI tool for removing objects, defects, people, or text from pictures.
https://cleanup.pictures/
2. Inkforall: AI tool for content generation, optimization, and performance.
https://inkforall.com/
AI Data Presentation :
——————–
1. STORYD : It creates AI data presentations leaders love, in seconds. Beta goes live in a few weeks.
https://storyd.ai
AI Database:
—————
1. SyntheticAIdata : https://lnkd.in/efKXxUkU
2. theresanaiforthat : https://lnkd.in/esexMFzt
More AI Tools Click here to get your links.
---
Final Thoughts.
We hope this article has given you a better understanding of the value of combining these two skill sets and tools to become an expert at AI affiliate marketing, whether you have been using AI writing tools for your blog but are new to affiliate marketing or you are just learning about AI but have been using affiliate links for years.
You may utilize AI technologies to write posts, generate captions, and repurpose content, among many other things, to provide affiliate content for your blog. With AI authoring tools, the possibilities are endless, and affiliate marketing is no different. So, in a nutshell, this is what you need to do.
1. Locate an AI tool that meets your demands. To locate AI products that work for you, you must first become knowledgeable about what is available. (As above)
2. Use the AI tool to set up a workflow for content creation It's time to establish a writing routine after selecting the tool or tools that would perform best for you.
3. Revise, review, and repeat.
This is only half the story. The other half is finding an Affiliate group that works for you. I have been with WA  for more than 2 years now and I can say they back up everything with facts. But don't take my word for it, do the research yourself. 
Wealthy Affiliate.
Whatever tools you need to be successful can be found online. And the same holds true for Affiliate marketing groups.
Finding the time to track down the best group can be wearying and time-consuming. I spent a long time looking for the best Affiliate Marketing group and believe I have found it in  Wealthy Affiliate.
Who Are They? 
I would like to show you a video made by Kyle, one of the owners of Wealthy Affiliate. 
This is one of the hundreds of different training videos and is the shortest as it is for introductory purposes only.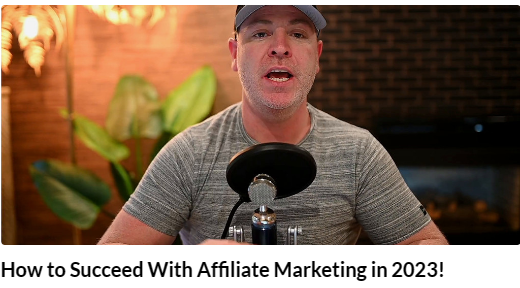 Kyle on Affiliate Marketing.
At Wealthy Affiliate, we have spent the last 17 years assisting individuals in starting and expanding successful affiliate marketing companies online. Since then, a lot has changed, but we have stayed on top of things, which is why we are the most reputable 5 Star (TrustPilot) platform in the business and keep setting the standard for the sector year after year.
1. The affiliate marketing market is currently a $17 BILLION market.
2. More than 5 BILLION individuals are online. As an affiliate, this is the audience you may reach.
3. You have the ability to advertise more than 550 MILLION products and services as an affiliate marketer.
4. You can promote and make commissions from any reputable brand and any kind of product imaginable.
5. No experience is needed to start up.
If you join our FREE Starter membership, I can guarantee that I will have your own niche business up and operating by lesson 4 of the training alone. I would love to personally assist you in starting your own affiliate marketing, passion-driven business, online. You may sign up HERE!
The training is only one part of what you need to be successful, these are some others.
Go and have a look around and see if this community of people is one with which you can work. We look at this as being part of a group where each of us helps one another.
If you want to read more before jumping in and having a look, check out this post, "Can You Make Money Online"
I doubt very much you will find another group with the same industry respect and respect from its members.
---
Some links on this site may be affiliate links, and if you purchase something through these links, I will make a commission on them. There will be no extra cost to you and, you could actually save money.  Read our full affiliate disclosure here.
Stephen