The Evolution of Online Marketing.
It's no secret that internet shopping experiences have evolved. Marketers may use partners as tools to enhance conversions and re-imagine the path to buy, including those who specialize in data aggregation, app tracking, influencer tech, marketing expenditure, and more.
Improving engagement and retention now focuses on which performance marketing possibilities decision-makers use and how they use new technologies through more flexible outcome-based spending.
What is Influencer Marketing?
An influencer is someone who is recognized as an expert in their profession and has a consistent following. People value their opinions, thus their endorsements carry tremendous weight. Experts with a big social influence and presence on social media are becoming increasingly popular.
It's a mix of classic and new marketing techniques. It incorporates the concept of celebrity endorsement into a modern content-driven marketing campaign. Influencer marketing is distinguished by the fact that the campaign's outcomes are collaborations between businesses and influencers.
Influencer marketing, however, is not limited to celebrities. Instead, it is centered on influencers, many of whom would never consider themselves famous in a traditional sense.
Why has Influencer Marketing become so Important?
In a nutshell, "trust".
Skepticism has become widespread online. And, in my opinion, rightfully so. This article is focused on the MMO market. Or making money online. How many times have you seen people advertising that they can make you $400,000 in 4 weeks or whatever the offer is?
Quite often the "promoter of the get-rich-quick plan" will be sitting in a fast flashy car in front of a "Guru Mansion" next to his "much younger" partner. Have you noticed it is more often targeted at males and not females? Interesting in itself.
Trust versus Skepticism
Modern marketing relies heavily on trust, and influencer marketing recognizes this need for trust and provides believable recommendations from people we see on social media platforms that we admire or relate to, and TRUST.
You can tap into an influencer's established network of people or followers and create your own brand by developing a relationship with them. Influencers can assist in marketing you and your company in a variety of ways.
They may enjoy and share the content you post on social media.
They may be able to provide you with space on their website.
They have the ability to promote you on their own social platforms.
The more personal the influencer's endorsement is, the more value it gives you.
The future of Influencer Marketing.
More money will be committed to influencer marketing (IM) in the future because it has the ability to increase" targeted" consumer loyalty in addition to being a "cost-effective" investment.
Influencer marketing is becoming more popular, and various technologies are being developed to make it easier to allocate resources to influencer marketing. Similar to what you will find below in Upfluencer.
In the online world, advertisements and promotional messages that emphasize the benefits and qualities of goods and services abound. Influencer marketing, in my opinion, will become more regulated and monitored.
It will therefore be in your best interests to seek out "tools" or firms that specialize in delivering this service. My belief is you should get in first to remain ahead of the competition.
How Do I find an Influencer?
Determine which influencer or influencers would be beneficial for your niche to help spread your message. You want to do this subtly. and not come across as being "spammy"
Your influencer does not have to be a "superstar," but rather someone well-known in your industry or niche. It is more important that you get on as friends so you can speak clearly and work closely together.
Establish a connection with the influencer. Can you provide any value to their business? No one enjoys being asked to do a favor for someone they have just met.
Interact with the influencer by leaving comments on their website or social platforms or engaging in social media conversations.
Produce high-value content that gives the influencer's audience something fresh.
Inquire with the influencer if you can provide a post or if they can provide a post to your website.
Where can I find My Influencer?
Not all social platforms are built the same. It is a lot easier to find people within your own niche or "group" on some platforms rather than on others.
The topic I am talking about today is "How to use On-Line influencers" and this is for my website "kool affiliates".
This website is within the MMO ( Make money online) niche and let us try to find an influencer or two.
First off the boundaries are that I belong to the Wealthy Affiliate group but will not be using any of these people as potential "influencers", even though this group has a large number of extremely well-recognized people within this "niche"
You may look here if you wish.

Let us try to find an Influencer.
Linkedin and Quora are providers of some of the best contacts that you can find. Both groups are highly professional and the quality of the information provided is, in my opinion, second to none.
Quora.
Quora is a site that "combines" an "internal" search engine with a social networking component. Its goal is to provide answers and allow you to answer inquiries on topics about which you are knowledgeable.
Quora is a platform for asking and answering questions. It was founded in 2009 by two ex-Facebook workers and now has over 300 million monthly active users.
Quora and Me! My Space.
I have spent the last year in the MMO market alongside my longer "natural niche" which is teaching English to students in Vietnam. ( I have been teaching ESL to Vietnamese students for the last 15 years and have 2 schools)
However it (MMO) has been something I have become increasingly passionate about because of so much poor advice, in my opinion, that is given out on is topic.
My focus has been on answering questions and not so much on building my business. However, the time has come when I need to get some return on the time investment I have provided.
So, can I get someone to endorse me as an honest player in this market and what will I need to do this?

Who Would I want as an Influencer?
One of the people I admire is "Neil Patel". On Quora alone, he has over 6 thousand followers, 20 contributors who help him provide quality content, and has posted close to 300 blogs over the last month at Quora alone.
Carolyn Hyde, one of the contributors to his blog frequently asks me questions ( And happy to do so ) and re-posts them to others. This means there is some "point of contact" already, which could make further contact easier. But would I want to do it?
Would Neil be a perfect "Influencer"? He certainly has the runs on the board and he walks the walk.
But, as we are "competing" in the same market he and his team may not be the best for using as "influencers". Also the differences in journey time and the route taken may not be conducive to establishing that "connection"
So, as much as I follow and listen to everything he says, not here!
Linkedin
Another option could be Linkedin. This platform certainly has my respect, along with the people who use it.
LinkedIn is the world's largest online "professional" network. LinkedIn can help you locate the ideal job or internship, build and deepen professional relationships, and learn the skills you need to advance in your career. And, for me, most importantly you may also use Linkedin to promote your business by connecting with like-minded people.
So, how are you going to do it?
Create a network: Your network is critical to maximizing LinkedIn's potential. It will assist you in recognizing what is going on in your industry and professional group.
Take part in discussions: On LinkedIn, you may quickly engage in discussions. Participating in discussions allows you to share your thoughts on current events and subjects with others. You will establish meaningful contacts with others via these discussions.
Content: Every day, millions of LinkedIn users connect, learn, and exchange information. With the content you provide on LinkedIn, you may inspire and educate your professional network.
Linkedin is a great place to find someone who will help promote your business, but if you want alternative methods to find an influencer, look at Upfluence.
My Choice for an MMO Influencer.
Upfluence.
Upfluence provides an all-in-one Influencer Marketing Platform.
Look through "upfluencers", a huge database of profiles on Instagram, Youtube, and TikTok to locate the influencers who can help your business grow.
Get detailed information about previous engagement rates, average comments and likes, average views, and more. Use these to find "your" influencers who will help you achieve your campaign objectives.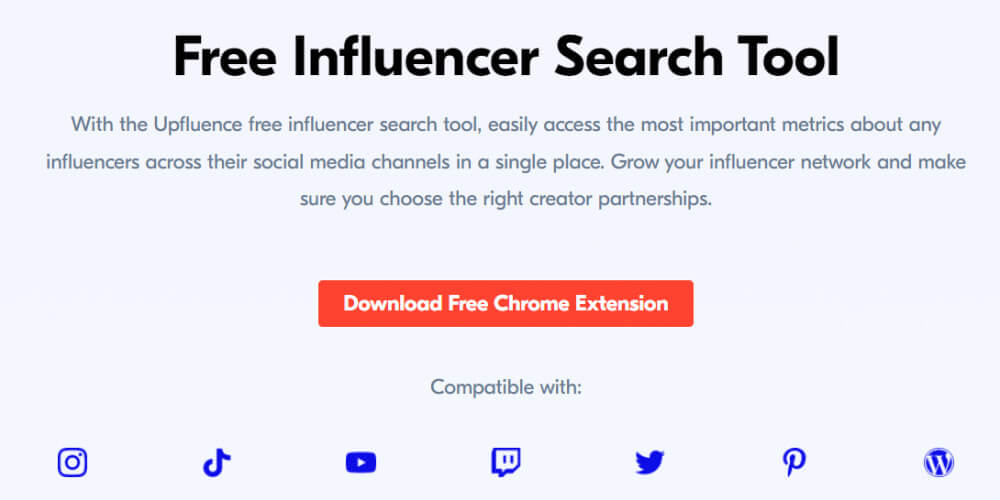 ---
Any or all links on this site may be affiliate links, and if you purchase something through those links I will make a small commission on them.
There will be no extra cost to you and at times due to my affiliation, you could actually save money.
You can read our full affiliate disclosure here.