The Best Chair for Your Back.
Are you like me and sit in front of a screen for hours every day? Well, you probably need one of these chairs. But before I give away my secret I want to explain why I think they are so great and why I love them.
My Back and Me.
About 10 years ago I was diagnosed with bowel cancer and had to have a speedy operation to save my life. And you are probably and rightly to think that bowel cancer is not an overnight do-or-die surgery.
As I said, true. However, the way my bowel cancer presented itself was by closing down my bowels. Effectively I could not pass anything. And being the stubborn male that I am, I disregarded all the signs until the last minute.
My stomach blew up like a balloon and was just as taut. Eventually, my wife got sick of my excuses that everything was OK and that in a couple more days my bowels would start working again. My apologies if you are eating and reading at the same time. You may want to wait until after you read this before you start eating again.
We arrived at the hospital at 2 am after I started to feel like my stomach was going to explode. I was x-rayed, and then immediately given a "colonic irrigation". This was after several days so I will leave it to your imagination.
The Short Story.
The short story is that I was rushed into surgery in Vietnam and spent approximately 14 hours on the operating table while receiving an ultimately successful operation. All is now well with me, except for losing 20% of my intestines, which eventually led to leg and back problems. A story in itself, but not for today.
This is the start of what led me to search for the best ergonomic chair in the marketplace and how I can save you time looking.
The Office Chair.
We spend half our lives at work, whether working for someone else or ourselves. And we normally never complain about the most important piece of furniture we are given. Most of us worry about the latest mobile phone or our workplace computer. Have we got the best or the fastest? We should be more worried about our office chair and the effect it has on our backs. Not to mention our love of falling off unstable chairs.
Non-Fatal Injuries in the Office.
In 2013, businesses in the private sector reported more than 3 million nonfatal occupational illnesses and injuries in The U.S.A, according to a 2014 report from the Bureau of Labor Statistics. And what is the most typical workplace injury?
FALLS, The most frequent workplace injury, according to the Center for Disease Control (CDC), is falling. In fact, the CDC discovered that office workers are 2 to 2.5 times more likely than non-office workers to sustain a fall-related injury. Office falls are most frequently caused by these factors:
1. Falling through damp floorboards

2. Reaching while sitting in an unstable chair
SITTING, Long periods of time spent sitting on an office chair can undoubtedly result in lower back discomfort or aggravate an already existing back condition. The main cause of this is that sitting in an office chair in a fixed position puts more strain on the back, shoulders, arms, and legs. The back muscles and spinal discs are particularly vulnerable to this pressure.
The Ergonomic Office Chair.
Whether you are a normal office worker or a CEO you will doubtless spend 1/3rd of your life sitting in a chair and working at your desk. Sitting in the same position for a long time is a serious threat to body posture and may eventually result in not being able to perform your day-to-day tasks.
A regular chair doesn't allow us to sit in a natural position. I'm either sitting on the edge of a normal chair or laying back with my feet up. most of us don't care until it is too late. And most employers aren't aware of the depth of the problem or how much productivity is wasted.
You will be deluged with offers from businesses touting their chairs as the best in the world if you are looking to purchase a nice chair. And some are unquestionably wonderful. But be wary of purchasing something just because it seems appealing, and the price is reasonable. You should really look more into it. but this is why you are here; I have done it for you.
I Said the Best, I Mean the Best.
There is a company that started its life in Singapore. That designed an ergonomic office chair, a tool that, when used properly, can help one maximize back support and maintain good posture while sitting. which I am notoriously bad at.
However, simply designing and creating ergonomic office chairs wasn't enough – it also went on to create and manufacture, what I believe, is to be at least some of the best ergonomic furniture in the world.
That first chair was created to adjust to the proportions of the individual's body and reduce any aggravation to the spine. And those concepts for that one chair were replicated across the whole range of furniture they now design.
The Best Office Chair.
Hinomi Pro H1.


At HINOMI, every component is created to exacting standards in several nations. For instance, the H1 Pro office chair, which is their best-selling model, contains breathable mesh that is woven in Germany and is approved by the ISO, FR-One, and OEKO-TEX standards. Additionally, the BIFMA-certified Class-IV hydraulic system is produced in South Korea.

More Ergonomic Delghts.
And if that is not enough for you they also design and manufacture a range of gaming tables that will protect your neck, back, and spine while you are conquering that castle or plundering the citadel and chairs and the new reality of online education or learning at home.
What is the cost for the Best?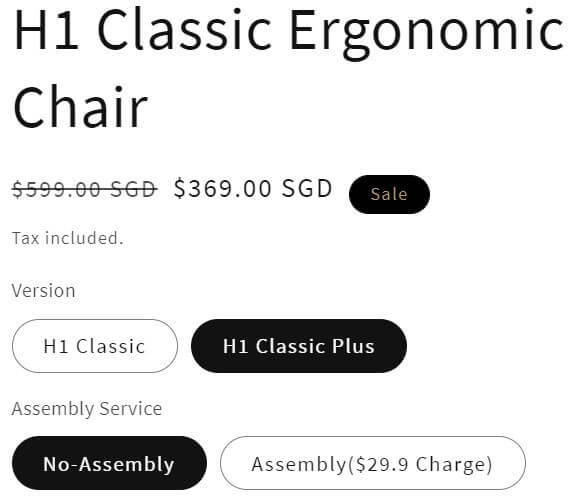 Or approximately U.S. $260.00 as of 06/10/2022.
Extended Warranty For Buying from this Link.
Your warranty will be valid for the following duration:
Simply post a picture or video of your Hinomi on a social networking site that has approved it (Facebook, Instagram, YouTube, or TikTok) to get a free 5-year warranty extension. Send your order number by clicking on the "Hinomi Extended Warranty" link below. We will send you a confirmation email to confirm the warranty extension when we have reviewed your input.

---
Any or all links on this site may be affiliate links, and if you purchase something through those links I will make a small commission on them.
There will be no extra cost to you and at times due to my affiliation, you could actually save money.
You can read our full affiliate disclosure here.
---