Artificial intelligence in Affiliate Marketing.
I know you want to do it easy. So let's go A.I. and let the bots do it for us. Does it work? Does Google God like it? Can we make money from it? Who is telling the truth?
For anyone who does not know what Affiliate marketing is here is a link. A link is something that will take you to another page on my website. Look at it and read " Wealthy Affiliate"
Let's Go.
How do you know if AI does this? Wellllllllll, spelling mistakes and swearing normally means you are talking or reading from a real human being, refreshing huh?
What Are We Up Against?
Here is some of the stuff you get every day…..
Artificial intelligence has significantly changed the affiliate marketing environment in recent years. Here are some examples of how it has supposedly helped affiliate marketing develop to this point and what it can yet accomplish in the future. Affiliate marketing AI tools are growing more and more popular, and more software and applications are transitioning to some form of intelligent AI-integrated feature set.
Understanding the function of artificial intelligence in advertising and marketing, in general, is crucial while looking for what they say is the finest AI marketing solutions.
A.I. Stuff.
1) Quillbot. I use this to check my spelling. haha. And it is a good app. However, most marketers will rip off entire paragraphs of other websites and throw it through Grammarly so it sounds different to Google. Do not do this, write your own stuff. If you want to be the same as the 80% of people who fail, go ahead. Google is clever, it hates bullshit and copying.
2) Chatbots. So you think you are talking to a real person? Today, the majority of interactions are handled by chatbots.

In order to discover answers to their difficulties, most customers today prefer to connect with representatives of numerous brands in some capacity. They could also do it to look for clarification on their concerns. The strategy for client involvement has completely changed 180 degrees since the advent of AI.

They assist affiliate programs in product promotion while also responding to inquiries from customers and resolving issues. B.S.
3) Reporting Software. Machine learning algorithms and AI work together to further the study of consumer behavior. Both organized and unstructured data is produced by combining the two functions.

Vendors and affiliated publications of a brand can quickly find potential customers or target markets using this information and market to them. Big data outcomes serve as the driving force behind AI-generated knowledge. Achieving their objectives is made simpler for affiliate marketers as a result.
Like other marketing strategies, tracking is crucial in affiliate marketing as well. The effectiveness of a marketing program can be determined thanks to affiliate marketing tracking. Utilizing affiliate marketing software like Scaleo makes it simple to monitor your development in this area. And again it is not run by the person you read.
4) Autoresponders. By leveraging AI models, autoresponders deliver, cough cough, outstanding returns, for the marketers. Outcomes in terms of lead generation and conversions. This is perhaps the first AI marketing tool on the internet, despite the fact that it was merely automation and not actually using AI. The function of these components is well defined and ranges from email auto-optimization to real-time customer behavior reading. Again, you are not talking to a real person.


5) Marketing. Advertisers occasionally rely on information derived from a variety of variables, relationships between brands, and target audience involvement with inventive commercials. But AI can also help with this by gathering information from various users, monitoring their online activity over time, and enabling creative placement of advertising and other marketing materials. Therefore, to some extent, AI in affiliate marketplaces is tracking you.
All or Nothing.
To sum up, we discussed some of the ways AI has influenced affiliate marketing to the point where it is now. Only a small piece of AI, which is still in development, has been tested. Experts believe that as technology develops, its use will grow. Depending on how it works out, this element might help change affiliate marketing in various ways.
With affiliate marketing, a company pays one or more affiliates for each visitor or customer they bring in as a result of the affiliate's own marketing efforts. The AI technologies that offer automation and insights are ideal for affiliate marketing. They aid marketers in decision-making, content discovery, and campaign optimization.
So, in my opinion, we will see more AI in affiliate marketing. Is it a good thing or a bad thing, that is up to you? But does Google like it?
Google and A.I.
What does Google like? I think the below screenshot says it all whatever they say.
The Future.
As they say, the future is now. If you want to be successful in affiliate marketing it looks like we will need to adopt A.I. in our processes. But I hope the human touch still comes through.
Follow me Wealthy Affiliate.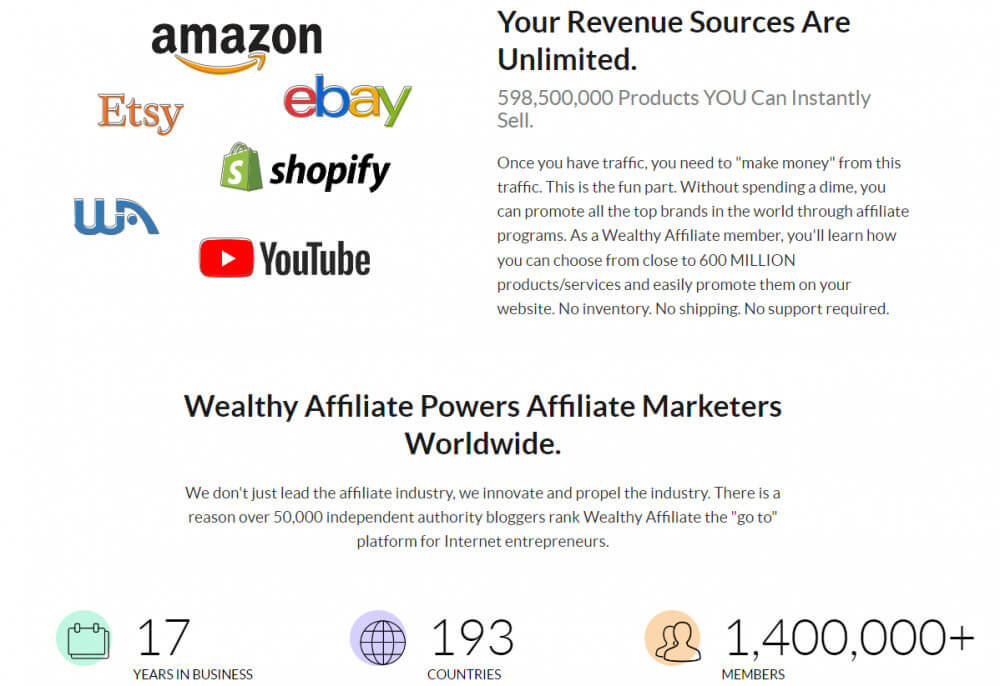 ---
Any or all links on this site may be affiliate links, and if you purchase something through those links I will make a small commission on them.
There will be no extra cost to you and at times due to my affiliation, you could actually save money.
You can read our full affiliate disclosure here.