What Are The Personal Skills Needed to be an Affiliate Marketer?
Before starting an exciting career in Affiliate Marketing and planning on becoming a laptop warrior, you should first look at yourself.
Do you really have the skills needed to be a successful Affiliate marketer? Anyone can join, but if you want to be in that elite 5% of people that actually make a living out of it, you should ask yourself a few questions.
What is Affiliate Marketing?
Affiliate marketing is the practice of making money while endorsing and selling the goods of other businesses. Since the advent of the Internet, companies have realized that it is the ideal medium for disseminating their products and services to a bigger and more varied audience. Any person or business wishing to reach a larger audience base can now use the internet e-commerce industry as a tool.
The key to affiliate marketing success is forging connections with advertisers, publishers, and customers.
Find out more here at "Wealthy Affiliates", the company that churns out webmasters like a cookie factory.
Look at my post "How to be a Successful Affiliate Marketer"
Attributes needed to be an Affiliate Marketer.
To succeed as an affiliate marketer, you need a number of qualities. Some of the most significant ones are listed below:
1. Effective communication abilities: You must be able to talk to your audience and the businesses you are collaborating with.
2. Persistence: Even if you don't see results right away, you must be patient and maintain working at affiliate marketing even though it may take some time for it to begin generating cash.
3. Creativity: You must have the ability to think of inventive ways to market goods and services to your target audience.
4. Strong work ethic: Since affiliate marketing demands self-control and perseverance, having a solid work ethic is crucial.

Marketing activities must be truthful and open.
5 Questions To Ask Yourself to test your Affiliate Strengths.
Answering these questions truthfully will save you a lot of problems and heartache in the future. It is better to find out upfront if you are suitable or not to be an affiliate marketer.
1. How would you characterize your ability to communicate? How do you normally interact with people at work?
A: My verbal and written communication skills are top-notch. I always try to answer people's comments and communications as soon as possible. and if necessary, I interact with them frequently on social media.
B: I consider my communication abilities to be average. When I can, I try to reply to comments and messages, although occasionally it takes me a bit to do so.
C: To be completely honest, I don't talk to people too much. I do my job, but I don't like interacting with people for work. And don't expect me to reply to comments on social media.
2. How do you usually keep organized and manage your time when working on several things at once?
A: I'm very organized and do keep track of things, I use tools like calendars and project management software. In addition, I rank my duties according to their importance or urgency.
B: I make an effort to maintain my organization, but occasionally mistakes are made. Typically, I just work on the most pressing issues at hand.
C: I don't really keep organized or manage my time well. I simply take on tasks as they arise. Time management is not something I believe in, everything gets done in its own time.
3. Have you ever analyzed online data to determine the success of any business activity?
A: I can use a variety of tools to track data and metrics, and I regularly review them to see how I am performing. Based on that information, I make adjustments as needed to optimize my results in my job.
B: I look at data and metrics occasionally, but I'm not really sure what to do with the information or how to use it to improve anything to do with my job.
C: I don't analyze any data or metrics for my job and don't understand it at all.
4. Have you ever 'faced a choice" between forgoing revenue or sticking with something you didn't believe in?
What were your tactics?
A: Yes, I've been in that predicament previously. Even if no one will find out, I always decide to act according to my convictions. Some could think I'm doing it to spite my face, but if I broke my morals, I wouldn't be able to live with myself.
B: I haven't encountered that issue before, but if I did, I think I would choose to ignore it because no one would be harmed and I would be promoted based only on how much money I made, not on whether or not it was moral.
C. As long as I didn't physically harm anyone, what's the issue? Money is money. If you don't acknowledge that the world is a "dog-eat-dog" environment, you won't succeed.
5. How do you build trust with your audience and ensure that they view you as a credible source of information?
A: "I focus on providing value to my audience by creating high-quality content that's informative and engaging. I also make sure to be transparent about my relationships and only promote products that I truly believe in."
B: "I try to build trust by being responsive to my audience and engaging with them on social media. I also try to promote products that are relevant to their interests."
C: "I don't really worry about building trust or credibility with my audience. As long as they click on my links, that's all that matters."
Answers.
If you answered mostly A's then you are a perfect fit for a career in Affiliate marketing because you believe in ethics and integrity and your readers will pick up on that almost immediately.
If you answered mostly B's then your answers are in line with the average person within the industry.
Answering mainly C's does not necessarily mean you are unfit for this role, however, you may need to change your approach if you wish to be successful.
Like any questionnaire, these are very generic and can only be used as a rough guide on your suitability in this industry.
If you are still unsure whether you would be "right" for this career, you may wish to watch this short video to help with your decision.
Mastering The Basics of Affiliate Marketing.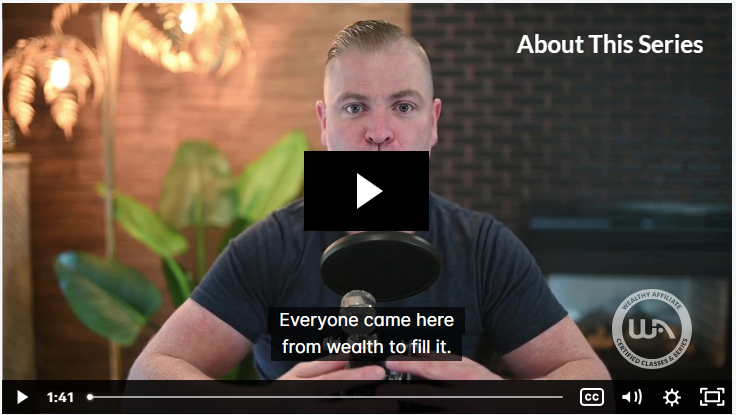 This series offers a thorough introduction to affiliate marketing's fundamentals. Participants will learn the essential ideas and tactics underlying effective affiliate marketing through lectures, conversations, and hands-on activities.
In addition to learning new abilities in affiliate marketing, participants will be able to use these new talents in their own projects and campaigns.
If you want access to the 6 videos please leave me a message in the comments.
Final Thoughts.
Affiliate Marketing provides a unique blend of advantages found in both traditional employment and self-employment. It offers flexibility, control over your work, and the potential for high scalability. Plus, the startup costs are lower than traditional bricks and mortar businesses.
If you believe you have what it takes to build a successful online business while enjoying the perks of working at home, sign up below for a free 5-lesson introductory offer.
No credit card hassles, no refunds because nothing is paid upfront, if you don't like it just take a walk. Click the link below for a free "test drive"
---
Some links on this site may be affiliate links, and if you purchase something through these links, I will make a commission on them. There will be no extra cost to you and, you could actually save money. Read our full affiliate disclosure here.

.