What is Reciprocal Linking?
You scratch my back and I will scratch your back. Reciprocal linking happens when links are exchanged between two website owners.
In other words, when you create content for your own website or write guest posts on other websites' blogs, you receive links from other websites in exchange for referring to their pages or resources.
Today, reciprocal links are a natural byproduct of owning a website. It happens when you develop relationships with other sites through authentic dialogue, not to mention when you link to sources without any expectation of reciprocation, but they discover your link and, in fact, reciprocate on their own behalf.
Do Reciprocal Links Benefit or Hurt Best SEO Practices?
In the past, reciprocal links were thought to be a useful strategy for improving a website's position in the eyes of search engine algorithms.
Are reciprocal links still effective today, given how frequently algorithmic changes alter how search engines interpret SEO tactics?
The solution is convoluted, as with any questions about SEO. And we need to revisit what is a reciprocal link?
Reciprocal Linking and Google.
Reciprocal links are an agreement between two parties to connect to each other's websites for mutual benefit. This kind of link exchange is done with the intention of raising both websites' search engine rankings.
Realistically, reciprocal linking is a link exchange.
Link exchanges are also in violation of Google's Search Central Guidelines.
"Any links that potentially influence PageRank or a site's ranking in Google search results may be seen as being a part of a link scheme and a violation of Google's Webmaster Guidelines," according to Google. This includes any actions that affect links leading to or leaving your website.
But it's a little more complicated than that, as is the case with many SEO-related issues.
Google continues by stating that their search engine algorithm is likely to penalize "excessive link exchanges ("Link to me and I'll link to you") or partner pages simply for the sake of cross-linking."
Therefore, the key term here is "extreme." The reciprocal links in question will be punished if Google believes they are too many reciprocal links.
Google Webmaster Guidelines
Simply said, having too many reciprocal links can harm your SEO.
However, there are some situations where one can apply common sense to ensure that link-building reciprocity does not go against any rules and actually adds value to the material of the reader.
Look at Google's Webmaster Guidelines for further information on link schemes and link farms.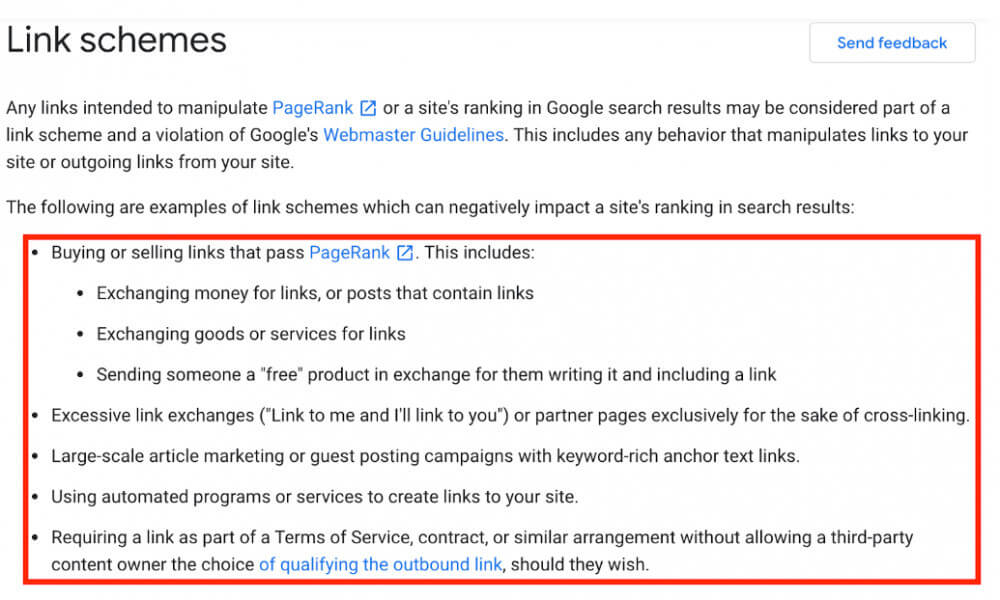 Image Source: Google Search Central
Googles Warnings.
Google warns users about the risks that could arise if someone tries to sway Google's rankings in the search results.
More particular, any method used to influence inbound links to your own website may result in Google penalizing you, which essentially implies degrading your website in the search results or, in more extreme circumstances, de-indexing it entirely.
Following are some actions that could drastically harm your SEO:
Selling and purchasing links, as well as trading links for cash, products, or services excessive reciprocal linking, and partner pages with poor content that are only there for the purpose of cross-linking.
Automating the process of creating links back to your website rather than doing it by hand. Using an automated service, for instance, to acquire links.
Points to Consider
Building one-off or natural-looking reciprocal connections is entirely acceptable and may increase the authority of your website. Therefore, before choosing to include reciprocal linking in your link-building activities, take into account the following:
Is the domain you want to establish a relationship with likely to increase organic traffic to your own site?
Does the target domain produce niche-specific material that is also beneficial to your audience?
Is the website a direct rival?
Rethink your decision if the previous question's response was yes. Increasing your immediate competitors' ranks is a bad strategy. Doing so might increase their SERP positioning and undermine the value of the authority you are establishing.
Other Linking Options.
First and foremost, we should consider whether a link will improve a reader's on-page experience. (Imagine yourself in their position.) What would you anticipate to find if you clicked on a link while reading an article or guide to learn more about the subject at hand? Instead of only boosting our own SEO benefits, adding information should focus on adding new or valuable information for the reader.
Guest blogging is undoubtedly a wise choice for gaining links.
Guest Blogging.
Guest blogging is a tactic for content marketing and link building and is undoubtedly a wise choice for gaining links.
In order to promote their product or service and their material, such as your blog entries and other content, guest blogging is the practice of a blogger writing unique content for another person's blog or third-party website.
Back Linking.
Backlinks are clickable links that lead from one website to another. Google and other top search engines view backlinks as "votes" for a certain website. Pages with a lot of backlinks typically have higher organic search engine rankings.
Clicking on my past article below, highlighted in blue, will show you some of the most practical ways to get started.
"How to build website Traffic with Backlinks"
No-Follow Links.
When a website uses the no-follow tag on links to other websites, it instructs Google not to transmit any of its PageRank value along. When you don't want to support a specific website or don't believe it to be as authoritative as you'd want, this is helpful. Google is aware that some situations may necessitate links that do not necessarily conform to their policies but may nevertheless fall under the category of reciprocal linking.
Internal Links.
Internal links are clickable references to web pages within the same domain. These don't lead to pages on other domains as external links do.
These internal links can transfer page authority, also known as PageRank, to significant pages if you employ them wisely.
To put it briefly: internal linking is essential for every website that wants to rank higher in Google.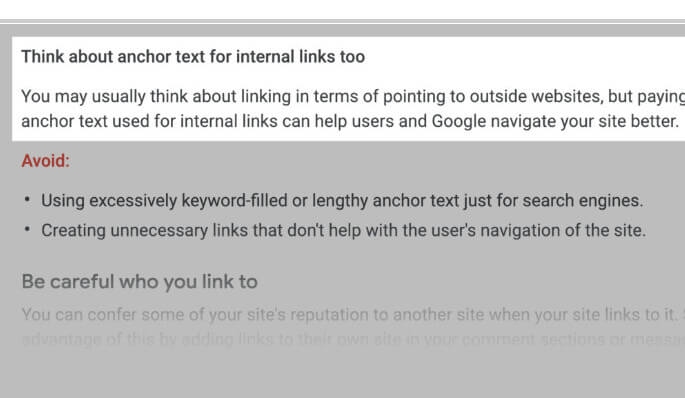 I even won't discuss keyword matching in anchor text. A product that Google even suggests you utilize.
---
Any or all links on this site may be affiliate links, and if you purchase something through those links I will make a small commission on them.
There will be no extra cost to you and at times due to my affiliation, you could actually save money.
You can read our full affiliate disclosure here.
---